Bucks Mill Brewing finds hoppy home in Detroit Lakes
After signing their lease on Feb. 1, Bucks Mill Brewery finally has its location in the former Homestyle Crafts and Fabrics store on Washington Avenue, and connected to the Washington Square Mall, in Detroit Lakes. The brewery founders said they want their new space to be family-friendly with a game room, and other amenities, but also the best place in town for beer.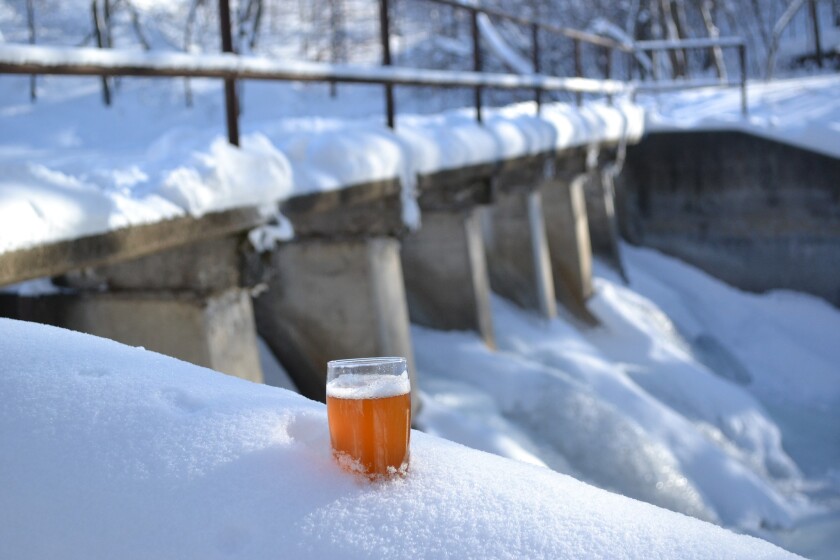 We are part of The Trust Project.
Bucks Mill Brewing finalized their lease in the former Hometown Crafts and Fabrics space in the Washington Square Mall on Feb. 1.
The owners of the startup brewery said they plan to make their space in downtown Detroit Lakes a premiere destination for community members and beer tourists alike.
"I do think once this place is done, it will be stunning," said Chuck Fritz, one of the brewery founders. "It will be someplace where you walk in and just go 'wow.'"
The owners said they have a long way to go before any beer can be served in their new space, but they are also hopeful they will have the major renovations, licensing and permitting all complete at some point during the summer. They plan to post construction updates on their Facebook page throughout the remodel process.
Garage doors will replace the windows along Washington Avenue, the owners said, which will give the patrons an open air feel. They hope some supply chain issues due to the ongoing pandemic are fixed in coming months, because garage doors are becoming increasing scarce.
Overall, the new brewing location is about a 7,000-square-foot space that increases to 9,500 square feet with the addition of the upstairs balcony area. The owners plan on having multiple areas available to be rented out by individuals and businesses for any occasion, but completing the upstairs area may not occur until sometime after the brewery's grand opening.
"It's a big space, which gives us a great opportunity, but it's also kind of a daunting space," said Henry Van Offelen, one of the brewery founders.
Chris Kaml, a Bucks Mill Brewery founder, said they will even need to cut a large hole in the main floor of the space because their brewing equipment is too tall for the basement brewing space. But patrons will enjoy looking down on the large vats and brewery process below while they enjoy a beer from the taproom, he said.
He also said the brewers are open to company-specific beer collaborations, if a business wanted to sponsor their own limited supply beer recipe over a period of time.
"So, like if Lakeshirts came to us and said 'we want a summer beer collaboration,' they could get one," said Kaml.
The owners also want to have an impressive gaming area that will delight any child, or adult, who comes in. They said they hope to have pinball, board games, puzzles, large Jenga and other fun table top activities for anyone and everyone. Adding, they will have very few television screens in the brewery because they want more conversations and comaraderie instead of staring off into space.
The group is also looking into a founding members club, said Fritz, where donations from individuals or businesses above a certain amount would grant the donor a lifetime of brewery benefits, including discounted or free beer benefits, invitations to small-batch tastings, admission to the brewery soft-opening, and other members-only events. Donors would also receive discounted rates for event reservations. The group will be accepting plank holder donations until the brewery's soft opening over the summer.
"It's an opportunity for the community to support the brewery right at the start," said Van Offelen. "It's likely we'll also have some sort of lower-cost club kind of deal on an annual basis."
As far as equipment, the owners said they have secured about two-thirds of all the equipment they will need for their operation, some of which was purchased from a Chicago brewery that closed due to the COVID-19 pandemic.
Once the group begins their brewing cycles, the owners said, they will be able to brew up to 10 barrels of beer per day, which translates to about 310 gallons, or about 20 kegs, or nearly 2,500 pints of beer per day.
"We're gonna have to hire people," said Kaml. Adding, he hopes to have applications ready for interested parties in the coming weeks.
Food cannot be prepared at the new brewery as per their permitting requirements, but the owners plan to team up with Great North Bar pizza and other local restaurants to provide a delivery service for their patrons so they can eat their to-go orders while at the brewery.
The new owners are also hosting a home-brewers tasting as part of Polar Fest 2022 . It will be held from 5 p.m. to 8 p.m. Feb. 24 at the Washington Square Mall. The event is free and open to the public and tasters must be 21 years old. The owners said they had five other home-brewers reserve tables for the event, and Bucks Mill Brewery will have a variety of different beers and seltzers on hand as well.
"We will have samples," said Kaml.
Dan Branstad, one of the brewery founders, said he's just excited to start brewing quality beer.
Branstad also said one of the best things about brewing beer is seeing "that smile" on someone's face after they take that first thirst-quenching sip.