THE ICE BREAKER: Everything you need to know about Polar Fest 2020
THE ICE BREAKER is a special section that was published as part of the Wednesday, Jan. 29 Detroit Lakes Tribune.
In its 24th year, Polar Fest is offering more activities than ever in 2020, with a record 43 scheduled events on the festival calendar as of press time, and more still expected to come.
From family-friendly activities to a few that are adults-only, and from active, outdoor events to indoor presentations and sit-down community meals, there are multiple opportunities for all types of fun on every single day of the 10-days of Polar Fest.
"We're trying to make Polar Fest a really well-rounded week and half of events," said Megan Smith, who is a Co-Chairperson of this year's Polar Fest along with Matthew Davis. "Winter means something different to everyone, so Matt and I this year, our goal has been to provide a variety of events … To break it up a little bit and make it friendly for everyone, whether it's young millennials who are new to town...or area families that are looking for something to do."
Polar Fest's wide range of activities take place at various locations around Detroit Lakes, with the City Park, Beach and Pavilion serving as a main hub due to the popular ice and snow sculptures that are on display there throughout the festival, as well as the sledding hill. A number of events also take place at Detroit Mountain, while the Holmes Theatre, Detroit Lakes Area Library and other venues are also hosting events.
Polar Fest has been around since 1996, and it has a growing number of event sponsors as well as festival attendees. It's Detroit Lakes' big community celebration of winter, and many of the events within Polar Fest are fundraisers for local charitable causes.
This year's festival will see the return of some classic crowd favorites, such as the Polar Plunge, fireworks over the lake, and Poles 'N Holes Ice Fishing Derby. There will also be a few new treats — the addition of a "Royal Tree" at the City Park, for example, and performances by the Fandazzi Fire Circus.
A candlelight cross country ski night has been added to the list of events happening at Detroit Mountain, and a new "Polar Pete Eats" outdoor food court will offer gourmet hot chocolate plus a variety of food options to people who are out and about on the day of the Polar Plunge. Food trucks will be set up on the corner of Minnesota Avenue and West Lake Drive from 9 a.m. to 3 p.m. that Saturday, Feb. 15.
"There are a handful of new events this year," said Smith. "I think that's pretty cool … There's live music, things that are family-friendly, things that are foodie, things for people who like the outdoors…"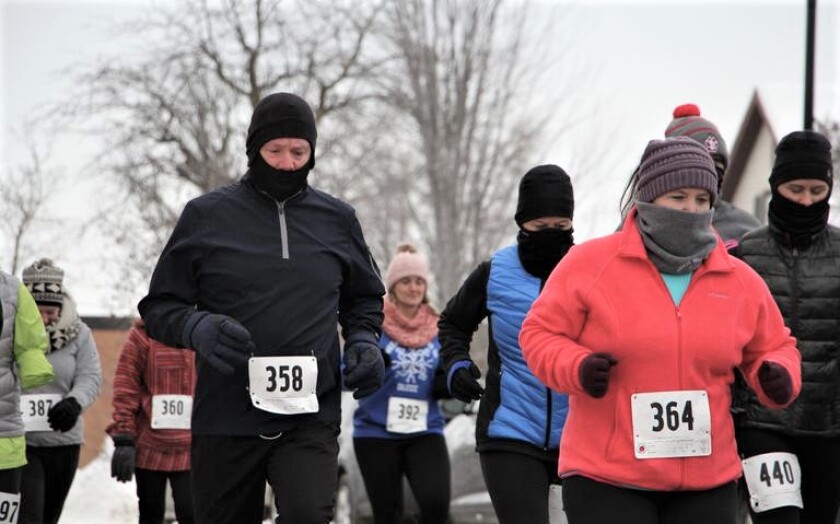 For those "hearty" types who don't mind the cold, there are tons of outdoor activities to choose from during Polar Fest — tubing, snowshoeing, golfing on the lake, and the Freeze Your Buns Run, to name just a few.
For those who prefer to stay indoors, Polar Fest's got options there, too — live music at the Holmes, a spaghetti dinner and pancake feed, 'Snowmazing' kids' games at the Lincoln Education Center, and plenty more.
For the romantics, there's Sweetheart Grams and Chocolate Fantasy, both of which tie into Valentine's Day, which conveniently falls during Polar Fest.
Most events are kid-friendly, but a few, like the Beer Quaffing Competition and a Winter Shanty Beer Tasting, are best left to the grownups.
One thing to note this year is that any events scheduled to take place on the lake are dependent on ice conditions, as determined by the Minnesota DNR. Those events may end up relocating to alternate locations if conditions aren't good.
"The ice isn't great this year," said Smith. "Events will go on (no matter what), we'll just work around it. If there are questions about events on the ice … check the website (Polar Fest's website, polarfestdl.com )."
RELATED STORIES:
A 'Model' Event: Several new lighted ice structures are a focal point of this year's Polar Fest
New This Year: All Glowed Up: 'Royal Tree' and Fire Circus headline Polar Fest's ever-growing list of new events
Miss Minnesota is coming to Polar Fest — and she's bringing a hotdish
The Classic Crowd-Pleasers of Polar Fest: The Polar Plunge, Frozen Fireworks and Poles 'N Holes
In Case you Don't Know: What's Polar Fest?
More about the grand lighting, volunteering, and other odds and ends
For a complete calendar of Polar Fest events, CLICK HERE.