Review: 'Jesus Revolution' unites Americans divided by Vietnam War
The new release is playing or will be playing at local movie theaters such as Cozy Theatre in Wadena, Comet Theater in Perham and Washington Square 7 in Detroit Lakes.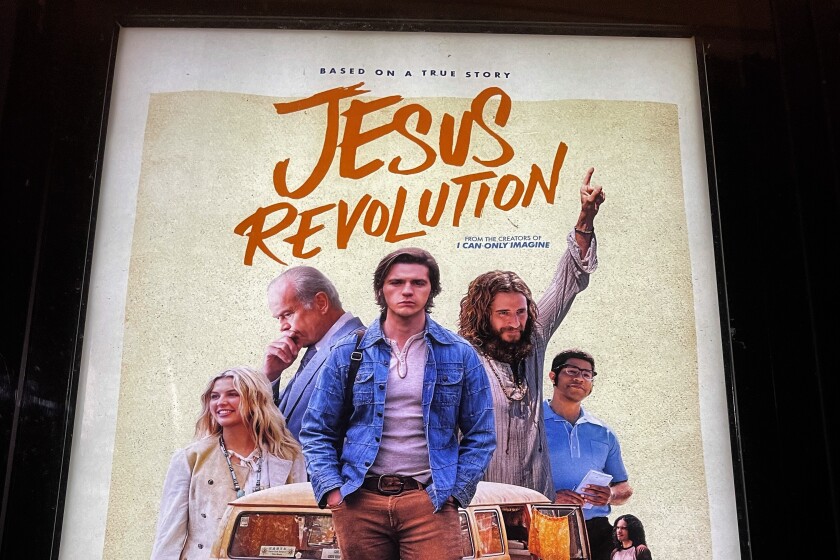 "Jesus Revolution" will make a believer out of you.
The real-life Christian drama in movie theaters is based on the book of the same name by Greg Laurie, a youth minister during the late 1960s and early 1970s. The motion picture depicts what many then called the greatest spiritual awakening in America's history.
And I knew nothing about it — zip, zero, nada — which is why I like historical dramas based on real life or inspired by true events (including the outrageous horror comedy "Cocaine Bear," a relatively self-explanatory feature film that is also playing in theaters across the country).
I may be given a pass on my ignorance about that turbulent time in United States history which seemed at the time anything but united. Youth were disillusioned by the federal government sending young men to fight in Vietnam, many returned in coffins to grieving loved ones.
Drugs and free love were part of that period in America's history depicted in "Jesus Revolution," when hippies became part of the national zeitgeist but the youth-based counterculture movement posed a threat, as it was believed by those who were older, to the establishment.
Kelsey Grammer plays Chuck Smith, a staid Southern California pastor in 1969 who is among the older generation threatened by the long-haired, bare feet youth telling others to "tune in and drop out." But Smith may be forgiven because we often fear that which we do not understand.
Smith's church is slowly dying as reflected in the near-empty pews of his church and the older congregation that comprises it. Even his free-spirited grown-up daughter with a rebellious streak played by Ally Ioannides finds it hard to not roll her eyes at her own father and his set ways.
"You're passing judgment on people you know nothing about. Maybe that's why your church is so empty," Ioannides tells her dad.
Her father replies, "When God walks in here and brings me a hippie, I'll ask him what it's all about because I do not understand."
Before you know it, the pastor's daughter encounters a Jesus Christ-looking young man walking along the road as she sings "War" in her car with its arguably contentious lyrics that include "War – what is it good for? Absolutely nothin' – say it again."
She offers the stranger a ride — this was in a time when hitchhiking was common and for the most part safe it would seem — and brings the young hippie home to meet dear ol' dad, who is about to be in for the surprise of his life.
The spiritual wanderer she encounters is played by a real-life practicing Catholic and actor named Jonathan Roumie, who is best known for his role as Jesus in "The Chosen," a crowd-funded television series about the life and ministry of Jesus of Nazareth.
Roumie appears guileless and charming as the real-life Lonnie Frisbee, who Smith's daughter invites to meet her dad —who reluctantly invites Frisbee into his home against his better judgment — but honors the challenge he flippantly issued earlier to his daughter.
But gradually Smith is won over by the charismatic and earnest Frisbee who invites more of his peers to learn more about faith and religion, many of whom are seeking something to believe in that is greater than themselves or any manmade institution.
Not exactly spoiler alert here, but Smith's church grows and grows with Frisbee's involvement and as with any organization — even a faith-based one or one built on Christianity — there are growing pains and conflicts about the direction the church or the movement should take.
"Jesus Revolution" currently has a 61% approval rating among critics and a 99% approval rating among audiences at Rotten Tomatoes, a review-aggregation website for film and television.
The consensus from the audience at RottenTomatoes.com: "'Jesus Revolution' faithfully depicts the moment in time it sets out to capture — and may remind many viewers of their own path to religious conversion."