Detroit Lakes churches opening back up as COVID rules relax
Each local church is handling its own reopening plan, and thus those plans vary. Some churches are taking it slow, while others jump ahead.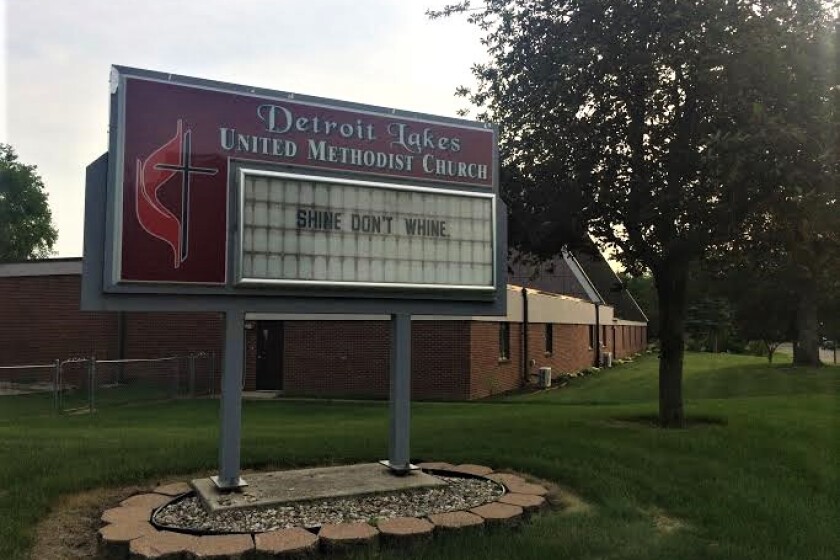 Churches in Detroit Lakes are opening back up after months of closures and cancellations related to COVID-19.
Though local churches are still taking precautionary measures to keep their members safe from the virus, most are beginning to offer in-person services again, either indoors or outdoors.
The actions follow Gov. Tim Walz's May announcement that churches would be allowed to reopen May 27, as long as social distancing measures were in place and gatherings did not exceed 25% of a church building's capacity. On June 10, that max capacity bumped up to 50% (or 250 people, at most), according to the state's plan.
The Lakes Area Vineyard Church will be following those rules when it holds its first pandemic-era, face-to-face worship service Sunday, June 21. The church is enforcing a strict 250-person attendance, asking its members to pre-register so max capacity is not exceeded. The service will be outdoors, and people are being asked to sit at least 6-feet apart.
"Family, this is an interesting time," states the Vineyard Church staff on the church's website. "We're still figuring out how to navigate all the unknowns while doing our best to show love to God and one another … We love you and can't wait to worship together in person!"
Each local church is handling its own reopening plan, and thus those plans vary. Some churches are taking it slow, while others jump ahead. On one end of the spectrum are churches like Holy Rosary Catholic Church, which is inviting members and visitors alike to attend regular indoor, in-person Mass again with no attendance cap. On the other end are churches such as Detroit Lakes United Methodist Church, which has yet to make any plans for bringing back indoor worship services (it does offer a drive-in service).
Most are somewhere in the middle, offering a mix of indoor and outdoor services, to reduced crowds. Community Alliance Church, for example, brought back its face-to-face worship services on June 7, with a 25% max capacity, or 219 people.
None of the churches in town have returned 100% to their full, normal operations prior to the coronavirus, as increased sanitization efforts, face mask recommendations and other precautionary measures are still in place at every church. Hymnals and other shared items are no longer found in the pews at most churches, and food and drinks are no longer served before or after services.
Even as churches reopen and begin offering in-person, indoor services again, the alternative services that were implemented earlier in the season will continue. Zion Lutheran Church, as one example, will continue its outdoor and drive-in services, offered since Mother's Day, even after restarting its regular indoor services on Sunday, June 28. Online services and sermons, as well as recorded or live radio broadcasts, will also continue indefinitely, as some church members prefer to worship from home while the pandemic is ongoing.