DL's new pickleball courts are open, and they're kind of a big dill
When it comes to finding suitable courts for pickleball play, the Detroit Lakes community is no longer in a pickle. An impressive spread of six fresh, brand-new pickleball courts is now open and seeing game action at Peoples Park, a year after th...
We are part of The Trust Project.
When it comes to finding suitable courts for pickleball play, the Detroit Lakes community is no longer in a pickle.
An impressive spread of six fresh, brand-new pickleball courts is now open and seeing game action at Peoples Park, a year after the project broke ground. The courts were finished later than the original target of last August, with uncooperative weather to blame for the long delay.
But a couple of weeks ago, happy pickleball players were practically crooning a collective "hallelujah!" as they took to the new courts for the first time. The clean, dry, smooth courts are a welcome breath of fresh air for them after previous months of water-logged play on the old pickleball courts inside the hockey rink at the park.
Those courts hold moisture after it rains, Detroit Lakes Area Pickleball Association board member Dave Welte said, and it took players up to an hour to squeegee them off before they could play their games safely and cleanly.
Now, at the new courts, all they have to do to play is walk over, open a shiny black gate, and get started. No muss, no fuss - all fun.
Welte and the other people who play pickleball here swear by it. They say it's a fun and easy way to meet and connect with people, and a great way to get some exercise. At the new courts on Tuesday, about 30 players with the local pickleball association were gathered for a mixed doubles tournament, and the jokes were flying over the nets almost as fast as the Wiffle Balls. There was a lot of laughter, and chatting. It was a nice summer day, with the sun shining, and everybody appeared to be having a good time.
Ginny Imholte, another member of the association's 7-person board who was at the courts on Tuesday, said pickleball is a surefire way to form friendships, whether they be short-term or long-term. She'll often stop at pickleball courts in different cities and states as she's traveling, she said, and she'll meet all sorts of interesting people. Here in Detroit Lakes, she said players see each other regularly for games and tournaments and get to know each other well.
Players from the local association meet at the outdoor courts for open play every morning at 8:30 a.m., Monday through Saturday, as well as Monday and Thursday evenings at 7 p.m. There are also twice-weekly tournaments and monthly potluck socials, among other occasional special events that bring people together.
"It's just enjoyable," said Welte, adding that, "because (the new courts are) in the park, it's just a nice place to be."
The courts' location next to recently revamped sand volleyball courts, tall trees and a small covered shelter, gives it a nice feel, players said, and the sloped design assures proper water runoff. The playing surface is safe and provides the opportunity for optimal playing performance, fencing provides separation between the courts, and the north-south orientation of the courts is sun-friendly for players.
There's also a roomy strip that runs down the middle of the courts, with six benches, where players can meet, rest and relax in-between games.
"They're worth the wait," Lee Swanson said of the new courts. "They're terrific. They're probably the nicest looking pickleball courts in the whole area. The surfaces are extremely playable."
Swanson and his wife, Laurie, are credited as the pioneers of Detroit Lakes' pickleball scene. Just a few years ago, there was no such scene at all, but they quickly changed that.
The Swansons learned to play pickleball while wintering down south, where the sport is "booming," according to Lee, and they grew to love it. In 2014, when the couple returned to Minnesota for the summer, they wanted to keep playing here. There were no pickleball courts in Detroit Lakes at the time, so they went to a local tennis court and duct-taped their own pickleball lines on top of that.
Soon after, they started offering pickleball lessons to others, and the sport began to catch on here. It caught the attention of the city's Parks Department, and that led to the development of the pickleball courts inside the hockey rink. But it seemed there were never enough courts to keep up with the rapidly-growing sport, and the condition of the courts was not ideal.
By 2017, local pickleball players were working with the city to plan the construction of 10 new courts - the six at Peoples Park and four more split between two impending parks on the north and south sides of town (those four courts will open at a later, undetermined date). By then the Detroit Lakes Pickleball Association was formed, and they had 130 regular players.
The association took responsibility for the fundraising needed to construct the new courts, with the city agreeing to own and maintain them once they were built. With each court costing approximately $20,000 to create, the association needed to raise $200,000.
That goal was reached without too much trouble, with players soliciting donations from various families, groups and businesses around the area. Those who raised or donated $20,000 or more are now recognized at the new courts as "court sponsors," with their group or business names displayed on signs.
"I'm really pleasantly surprised at all the companies and people that have donated for these courts," Swanson said.
Today, just five years after the Swansons started playing pickleball in Detroit Lakes, there are more than 160 regular players through the local association. Many of them are seasonal residents and only play in the summer, but even in winter, there are still about 80 regulars. They play their winter games on the indoor courts at the Detroit Lakes Community and Cultural Center.
To officially mark the opening of the new outdoor courts, the Detroit Lakes Area Pickleball Association will be holding a dedication event this Thursday, June 27, at 11:30 a.m. at the courts at Peoples Park. There will be a short ceremony, followed by pizza courtesy of Papa Murphy's. Balls and paddles will be available for anyone who wants to play, and beginners may request an introductory lesson from one of the experienced players while they're there.
For more information, visit the DL Pickleball Facebook page, email dlpickleball@gmail.com , or visit usapa.org.
If you go
What: Peoples Park Pickleball Courts Dedication Event
When: Thursday, June 27 at 11:30 a.m.
Where: The new pickleball courts at Peoples Park in Detroit Lakes (behind Zorbaz)
Who: Everyone is welcome
More Details: A short ceremony with pizza served. Experienced local pickleball players will be available to help interested beginners learn the ropes. Balls and paddles provided.
Why is it called pickleball?
Pickleball was invented in 1965 near Seattle, Wash., by three dads - Joel Pritchard, Bill Bell and Barney McCallum - to keep their bored kids entertained in the summertime. Accounts of how the name originated differ. Joel Pritchard's wife, Joan, said she started calling the game - which is essentially a mashup of badminton, tennis and ping-pong - pickleball because "the combination of different sports reminded me of the 'pickle boat' in crew where oarsmen were chosen from the leftovers of other boats." But according to Barney McCallum, the game was named after the Pritchards' dog, Pickles, who would chase the ball and run off with it during their backyard games.
Pickleball with a pro: Helle Sparre to lead clinic in DL
There will be a special Pickleball Clinic at the new outdoor courts in Detroit Lakes Aug. 12-14. Professional pickleball player Helle Sparre will teach two-hour sessions, two or three times a day, at 8 a.m., noon and 2 p.m. One free session will be offered on Aug. 12 from 9 to 11 a.m. Registration is available online at www.dlccc.org .
Sparre, a native of Copenhagen, Denmark, enjoyed a stellar career in professional tennis, competing in all four major grand slams - the Australian Open, the French Open, Wimbledon and the U.S. Open - and is now one of a growing number of former tennis stars who have successfully converted to pickleball. A gold medalist at the 2019 U.S. Open Pickleball Championships and the 2018 USA Pickleball Nationals, she is also recognized as one of the best pickleball instructors in the nation today.
For more information about her upcoming clinic in Detroit Lakes, call 218-844-4221, ext. 1.
1
/
4:
Mary Softing hits one over the net during a pickleball game on Tuesday. (Marie Johnson / Tribune)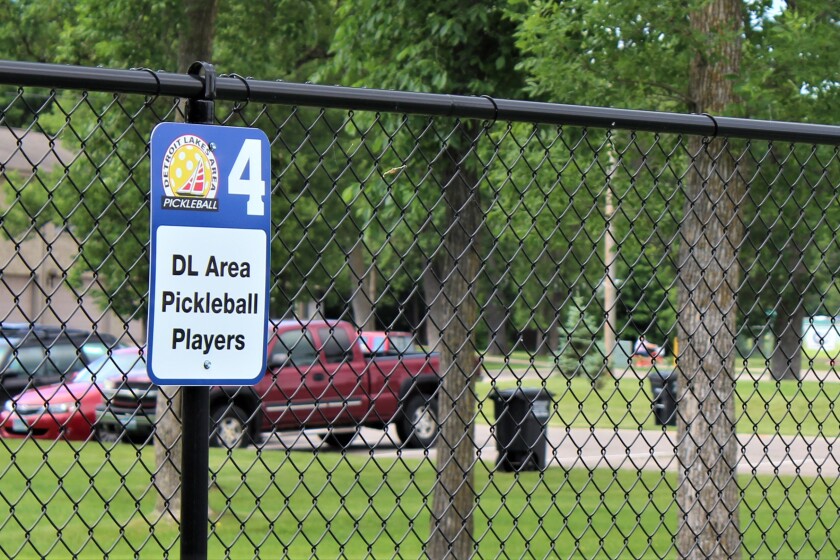 2
/
4:
Each of the six new pickleball courts at Peoples Park are marked with signs displaying the name of the "court sponsor" that raised or donated enough money to pay for the court. Each court cost approximately $20,000. Court sponsors included the Wimmer Family, Foltz Family, BTD, Lakeshirts, City of Detroit Lakes and the Detroit Lakes Area Pickleball Players. (Marie Johnson / Tribune)
3
/
4:
Pickleball players gather during a mixed doubles tournament at the new courts on Tuesday. The six courts are divided down the middle by a large walkway and gathering area with six benches for seating. Players with the local pickleball association say the courts are among the nicest they've seen anywhere. (Marie Johnson / Tribune)
4
/
4:
Brian Maki postures for a hit during a Detroit Lakes Area Pickleball Association mixed doubles tournament at the new outdoor courts in Peoples Park on Tuesday. (Marie Johnson / Tribune)