Beauty on the Beach: Thousands view dazzling Fourth of July fireworks display in Detroit Lakes
Thousands of residents and visitors crowded City Beach in Detroit Lakes for the city's Fourth of July lakefront fireworks show. Additionally, festive boats, and some costumed owners, competed for prizes and paraded around Lake Sallie and Lake Melissa to celebrate Independence Day. An eagles-nest-boat, featuring fully-costumed bald-eagle-boaters took first place.
DETROIT LAKES — For about 15 minutes, the sky above Detroit Lake was graced with a dazzling display of explosive color to celebrate the Fourth of July.
The annual lakefront fireworks show drew thousands of residents and visitors to City Beach in Detroit Lakes for the summer beach season highlight, but, if you asked one young Fargo boy, he was just excited to see all the dinosaurs.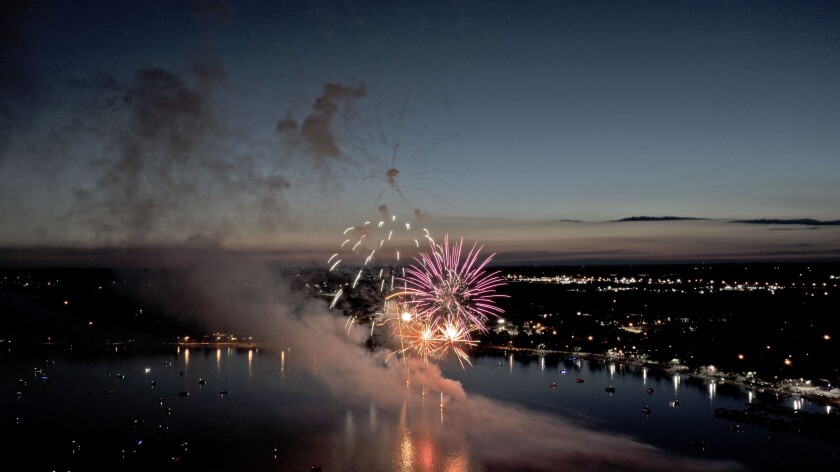 "It's a dinosaur," the young boy exclaimed with each new fireworks explosion. Following the show, the boy's wide eyes and smiling face said all that needed to be said about what he thought about the city's lakeside Independence Day tradition.
Detroit Lakes Police Chief Steve Todd estimated there were at least a couple thousand people watching the show and that no significant incidents or injuries occurred during the event.
"Overall, the event went good," said Todd. "As far as the fireworks show, I don't get to watch the whole thing because I'm working a traffic control point, but every year the fireworks get better than they were the year before and you just can't imagine that they keep getting better because they are so incredible, but they do."
Todd also praised his officers for working these all-hands city events, many of whom spent significant time away from their families over the holiday weekend.
"Any police officer that works in Detroit Lakes knows when you take the job here that you will never have a Fourth of July off," he said. "Everybody else is enjoying the day with their families and their friends, and if you are a police officer in Detroit Lakes, you will be working."
Todd added the next few weeks in town are going to continue to be busy with events and major road projects beginning on West Lake Drive and Holmes Street, while the Willow Street project continues from Rossman Avenue to Washington Avenue. He urged residents to be patient during the rest of a busy July in Detroit Lakes.
Earlier in the day, the Lake Melissa and Sallie Improvement Association held its annual boat parade on their respective lakes.
Association members paraded their boats adorned with colorful decorations, including some owners in full costume, for prizes and lake bragging rights.
Bronx Cupp, of Minneapolis, was staying with family and friends on Lake Sallie and said he enjoyed the seafaring parade.
Cupp also said he liked "all the different characteristics" of each of the entries, adding that he'd be willing to take part and dress up for boat parades in the future.
The winners of the Lake Sallie event were the "Liberty Chicks" vessel, owned by Judy and Guy Hatlie, which featured an eagles-nest-boat and a full-size costumed bald eagle.
Receiving an honorable mention was the "Boston Tea-ki Party" boat, owned by Jeff and Kristi Reidesel, who handed out free "tea" to event attendees.