MN DFL senate district 4 legislators discuss surplus, inflation, democratic uncertainty in virtual town hall
Sen. Kent Eken, DFL-Audubon, Rep. Heather Keeler, DFL-Moorhead, and Rep. Paul Marquart, DFL-Dilworth, held a virtual town hall for constituents of state senate district 4 on March 15, which encompasses areas of Becker, Clay and Norman Counties. During the meeting, the legislators discussed how to spend the state's $9.25 billion surplus, inflation challenges, and how to find common ground within the democratic process.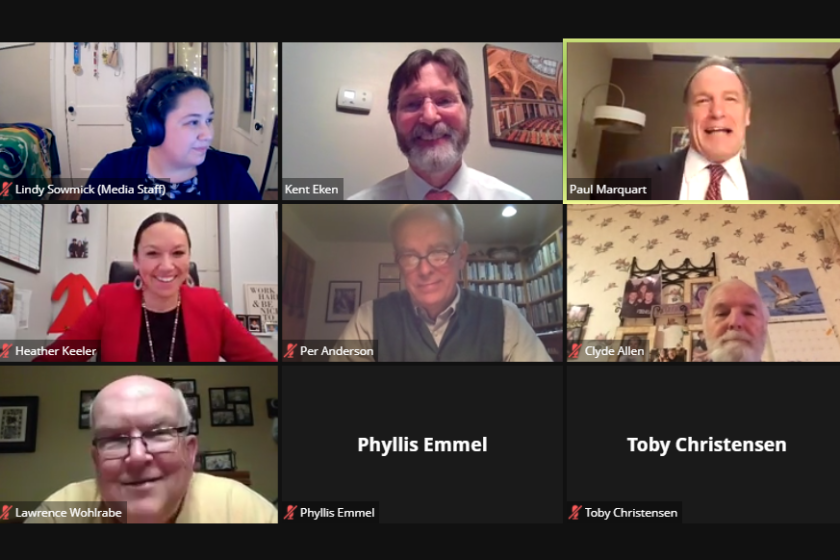 DETROIT LAKES — In a virtual town hall, state legislators from Minnesota Senate District 4 met with constituents and answered their questions on Tuesday, March 15 concerning the state's $9.25 billion budget surplus, inflation and the current divisive state of politics in both parties.
The event was hosted by Sen. Kent Eken, DFL-Audubon, Rep. Heather Keeler, DFL-Moorhead, and Rep. Paul Marquart, DFL-Dilworth, whose voters encompass parts of Clay, Norman, and Becker Counties.
When addressing how to spend the state's surplus dollars, Marquart said he believes some investment needs to be made in child care facilities to help alleviate a burden facing many working families, improving assisted living facilities and also some should be returned to the voter as a tax cut.
"We've got those dollars to do that," said Marquart. "And if you hear some folks saying, 'we should all do tax cuts first,' there should be a balance. When I talk to folks, they want the balance and that's what we need."
Eken said he believes part of the surplus needs to be spent on addressing Minnesota's workforce shortage, especially in long-term care facilities.
"The fact is we're facing demographic changes to the likes of which we've never seen and as a result, the demands are only going to continue increasing," said Eken. "The quality of care is being compromised for our most vulnerable right now and we need to have a long-range solution to these long-term care problems."
Eken added, while this $9.25 billion surplus is historic, but it can also be misleading due to high inflation costs.
"As a result of (inflation), there are a lot of things being done that we've funded, that we thought we had completed funded the last time around, now we're finding out there are all kinds of cost overruns because of the increasing cost of construction and maintenance," said Eken. "There's going to be a lot of that funding that is going to go toward addressing these cost overruns because of the inflation that's out there."
However, Eken said, "I do think some of this surplus does need to be returned."
Keeler added she wants to spend $100 million on sheltered capital across the state to combat homelessness.
"We know that we just do not have enough resources, enough space," said Keeler. "If we invest in the brick-and-mortar now, it helps us down the road. When we have these massive surpluses, I just believe it's the time to invest in the people who need it now and the people who could potentially need it in the future."
The legislators also pointed out the divide between the state's political parties, but also noted that common ground still exists, even in these divisive times.
"Working together with some of the extremes that we have right now is seen as a weakness, not a strength, and that's a problem," said Marquart.
Marquart, who announced this year would be his last in the state legislature, also told a story about being asked what his favorite accomplishment was in his 22-year legislative career.
"I said, 'I haven't accomplished anything, you accomplish things together,'" he responded. "The key to any success we have is going to be finding common ground."
Eken added he believes a large area common ground is forming around law enforcement due in part to the "vilification" that has taken place against the profession in recent years.
"We need to do more to recruit and retain law enforcement officers, and part of that is to make it clear to people out there about how important this profession is," Eken said. "There was such a polarization on that issue as well and I hope we start to see a decline in the polarization on that. We can't afford to be polarized on critical issues like public safety."
Marquart also addressed the division in trust of the democratic electoral process as a whole and said he was "very concerned" with the false threats to election integrity.
"When people say that we are having fraudulent elections, that is an insult to our neighbors and friends who are election judges in all those precincts around the state and around the nation," said Marquart. "These are good, honest people ... and, with some politicians continuing with the 'Big Lie' on this last election, it is very damaging to our democracy and to our electoral process, which is the bedrock, the foundation, of a strong democracy."