May was another spectacular month as birds settle into the region
As the migration begins to settle down, the resident birds will begin to breed. June is often full of nest building, egg hatching and chick fledgling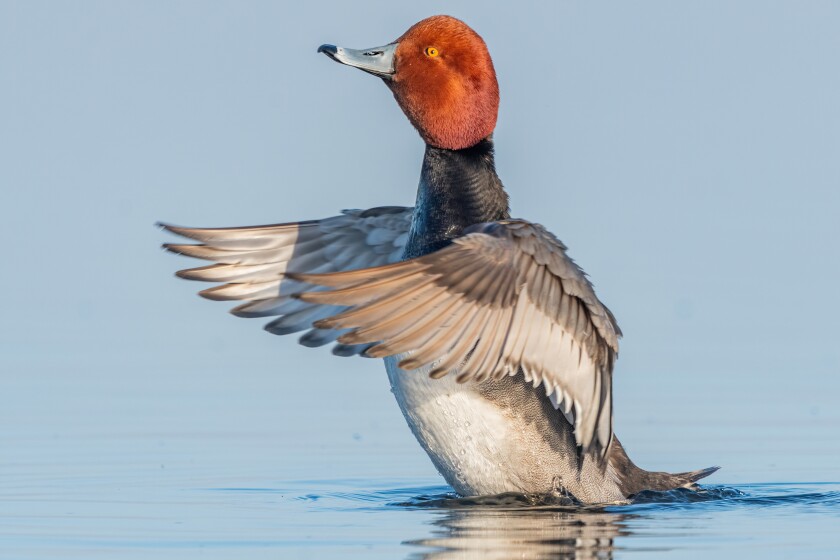 We are part of The Trust Project.
May was full of dramatic ecological changes on the landscape and dramatic personal change for me. Many species have begun to pair up and settle into their summer homes. Similarly, I have graduated from the University of North Dakota and have begun settling into my summer fieldwork on the Missouri River. I made it safely there and back from Yellowstone and was lucky enough to experience springtime in the mountains.
Redhead (Aythya americana) - Kelly's Slough NWR, ND - Wild
Redheads are among the many resident nesting ducks we see across the Prairie Pothole Region. It's pretty easy to see how this diving duck got its name, but only the males have the namesake red head. Females, in contrast, are dominated by shades of tan and brown. Higher water levels across the Midwest should make finding Redheads far easier than last year. Try driving rural roads and scan the flooded ditches and wetlands.
Western grebe (Aechmophorus occidentalis) - Long Lake NWR, ND - Wild
It's not uncommon to see large rafts of Western grebes across the larger bodies of water across the Great Plains and Prairie Pothole Region. Western grebes may look somewhat like ducks, but grebes are not that closely related to waterfowl. Western grebes have an incredibly dynamic courting dance. Pairs will line up side by side and run along the water's surface. I have seen it several times in my time on the prairie wetlands, but it's something that is always awe-inspiring.
Eared grebe (Podiceps nigricollis) - Yellowstone National Park - Wild
Though I took these pictures in the mountains, eared grebes are common across a large portion of central and western North America. Like Western grebes, you can find eared grebes in large rafts in the wetlands, lakes, and ponds of most of the Midwest. They may be small, but they create an impressive splash when they bounce up and dive into the water while hunting fish and aquatic invertebrates.
Black bear (Ursus americanus) and grizzly bear (Ursus arctos horribilis)- Yellowstone National Park - Somewhat Wild
Here's a short break from the feathers as we look into the fur. Male black bears can weight up to 600 pounds, run up to 35 mph and have a bite force of around 800 pounds per square inch, but these are rookie numbers when compared to the heavyweight of Yellowstone, the grizzly bear. Male grizzlies can nearly triple the weight of a large black bear, weighing up to a whopping 1,700 pounds. These behemoths have a bite force of 1160 psi and can top out at speeds of 40 mph. Neither of these brutish bears are something to mess with, but their omnivorous diet has them taking advantage of the new spring vegetation and berries oftentimes. They sure won't shy away from their next meaty meal, however. Treat all wildlife with respect, and give them their distance, especially when they have the ability to maim or kill you with a single paw swipe!
Ruddy duck (Oxyura jamaicensis) - Kelly's Slough NWR, ND - Wild
Ruddy ducks remind me of little tugboats, and their compact stature allows them to float low on the water's surface. This tugboat-like appearance is only amplified by the male's bubbling display. Through the breeding season, males will slap their bright blue bill against their breast. This display tends to create lots of splashes and bubbles. The display is strangely punctuated with a burping grunt sound. There are a lot of strange behaviors with this strange bird. If you're on a hunt for a ruddy duck, spend time along the larger wetland edges. The bright blue can be easily seen from quite a distance.
Harlequin duck (Histrionicus histrionicus) - Yellowstone National Park - Wild
Harlequin ducks, or "Harlies," are another incredibly unique duck. Their clown-like pattern led to their name, but these color patterns aren't the only strange thing about them. Harlies rely on fast-moving water, a stark contrast to the puddle ducks of the Midwest. These birds are often found along the turbulent jetties and splash zones of the northern Pacific and Atlantic oceans, but a few ducks will pass on the saltwater and find themselves in the raging montane rapids of the Rocky Mountains. They are just plain cool.
As the migration begins to settle down, the resident birds will begin to breed. June is often full of nest building, egg hatching and chick fledgling. I am looking forward to seeing the next generation of feathered friends emerging onto the landscape. I am looking most forward to the countless young shorebirds and waterfowl that will soon be present along the sandbars, wetland edges and beaches of much of the Midwest.
With these babies present, we need to take special caution to ensure their safety. Be sure to monitor pets while outside, it only takes a curious canine or cat one move to end the life of a young bird. Also, give the babies and their parents space. I am sure many of you can relate to the fact that raising children is an often stressful time, so let's not make it any harder on them. Keep your distance while observing, but take in the beauty of the fledging future flyers.
Now go get lost.
Instagram -- https://www.instagram.com/stuff.seth.sees
Seth Owens is a birdwatcher and photographer in Grand Forks and a frequent contributor to Northland Outdoors.