Spear makers go from the darkhouse to the spotlight
A social media post of a Hjelle Arc Custom Spear in 2016 launched a slow but sure snowball of growing attention for their handcrafted works.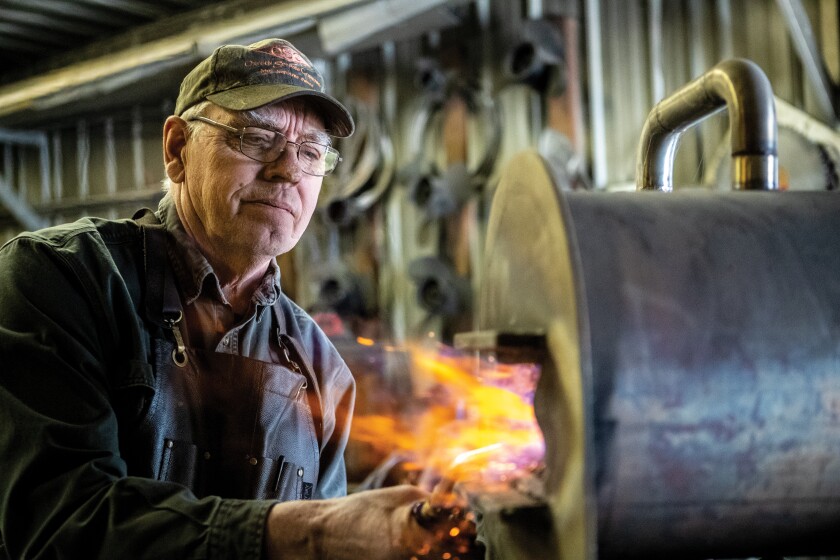 NEW LONDON, Minn. — Modern wheelhouses, electronics and even social media have brought dramatic changes to ice fishing, but the sport of spearing fish through the ice has largely remained immune to it all.
Except that, social media has greatly changed the fate of a father and his two sons who handcraft what are arguably the best spears ever tossed into the depths of Minnesota's ice-covered waters.
Social media has made Loren Hjelle and sons Scott and Nick something akin to rock stars in the small world of darkhouse spearfishing, ever since September of 2016. That's when Scott first posted a photo of one of their spears on the Facebook page of "Fear the Spear," a group devoted to the sport.
Recently, outdoor photographer and writer Mitch Kezar told the story of Hjelle Arc Custom Spears in the national magazine Outdoor Life . The Minnesota Backcountry Hunters and Anglers are featuring them as among the top presenters for the North Country Icebreaker rendezvous on Lake Mille Lacs on Jan. 27-29. And outdoor sporting businesses and organizations, ranging from Coldwater Outfitters in North Dakota to Modern Carnivore and the podcast " Friday Night Pike " have all promoted their works and story.
As for Facebook, Scott Hjelle said he still remembers how excited he was when the Hjelle Arc Custom Spears page reached the 100 "likes" mark. Today it has more than 3,300 followers.
What's it mean for sales? They have not taken new orders for nine months and are still not caught up, they said.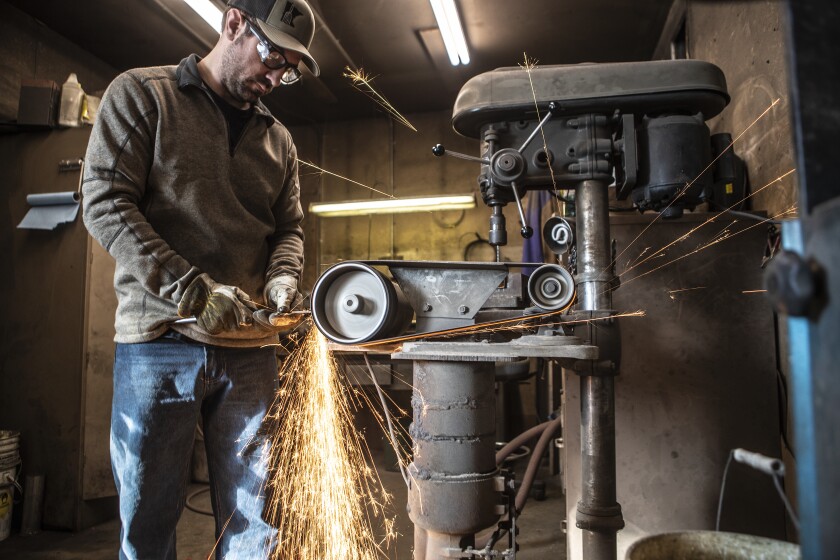 Post a photo of a spear for sale and the reaction is nearly as sudden as thrusting a spear at a northern. Scott said the first picture of a spear he posted on their Facebook page was purchased eight minutes later. The second took three minutes.
The demand notwithstanding, these metal workers remain committed to handcrafting their spears. "Now I have to try and figure out how I can build more spears without sacrificing what makes them our spears, right? We don't want to have a factory for spears. We build 'em by hand and it's the three of us building em," said Scott.
Loren Hjelle crafted his first spear in 1972. As a welder by trade, he was approached by a friend who asked him to make a spear using material from the railroad at a time when rails were gas-welded.
The spears have evolved since then, and continue to do so, said Loren. For decades now, he's been using the tines of pitchforks to make the business end of the spears.
Pitchfork tines are made of high carbon steel, ideal for spears, he explained.
Functionality comes first, said the Hjelles. They make everything from one- to seven-tine spears. Each spear is front weighted so it can be thrown like a dart.
Each spear is crafted in the Hjelle signature design of the wishbone. The metal shaft splits in two before rejoining and connecting to the spearhead. The design allows for more weight on the business end, as well as more surface area to attach the head, Loren explained.
The Hjelles are not aware of any other spears using the wishbone design.
After functionality comes art, and that too is a distinctive feature of the Hjelle Arc Custom Spears. Father and sons employ a range of metal working techniques to create distinctively designed spears. Scott also uses electricity to fractal or create etchings on the metal and wooden handles.
For Scott, the artistic part of the endeavor has become especially rewarding. "I was never artistic in school," said Scott. "I couldn't draw. I couldn't paint. Making spears opened up that artistic part of my mind."
No doubt, the beauty of these spears means that some are relegated to walls as showpieces. "That's our corny line. You get to use 'em all winter and look at 'em all summer," said Loren, laughing.
Loren launched much of this while he taught welding at Ridgewater Community College in Willmar. He crafted the spears in his shop at his home on Swan Lake by Sibley State Park in his spare time. Sons Scott and Nick have joined him in the endeavor in recent years.
Nick is teaching welding at Ridgewater this semester. (Loren had returned to the classroom last semester to help out.)
Loren figures he has around 500 spears of his making out there. Scott recently stamped #269 on his latest creation.
Father and sons are just as passionate about the sport of spearing as they are about making spears. It's a tradition passed down through the generations. Loren said his dad had a home on Como Beach on Lake Andrew and spent long hours in a small dark house.
Most of their spears are purchased by customers in the states allowing darkhouse spearing: Minnesota, Michigan, North Dakota and South Dakota and the Canadian province of Ontario.
More young people are getting into the sport, and women are joining the ranks as well, according to the Hjelles. They had a woman from Willmar order a spear she intended to present as a wedding gift to her soon-to-be husband. Sometime later, a man from Willmar contacted them about a spear for his soon to be bride.
Today, the Hjelles have a photo of the newlyweds standing on the ice with their Hjelle Arc Custom spears and a northern pike with each.
Over the years, they've received hundreds of photos from customers featuring their harvests and with stories to tell. A customer in Montana sent them a photo of the 21-pound, two-ounce northern pike he nailed with a single-tine Hjelle Arc Custom Spear. "Gutsy," said Loren of the spearer's accuracy and confidence.
All part of the fun. This year, they decided to hold a photography contest featuring the harvested fish with their spears on their Facebook page .