Volleyball: Bemidji stages comeback to knock off Detroit Lakes in five sets
Bemidji erased deficits of 1-0 and 2-1 to win 3-2 over Detroit Lakes. The Lakers moved to 14-3 on the season with one home game left on Tuesday against St. Cloud Apollo before the Section 8-3A playoffs.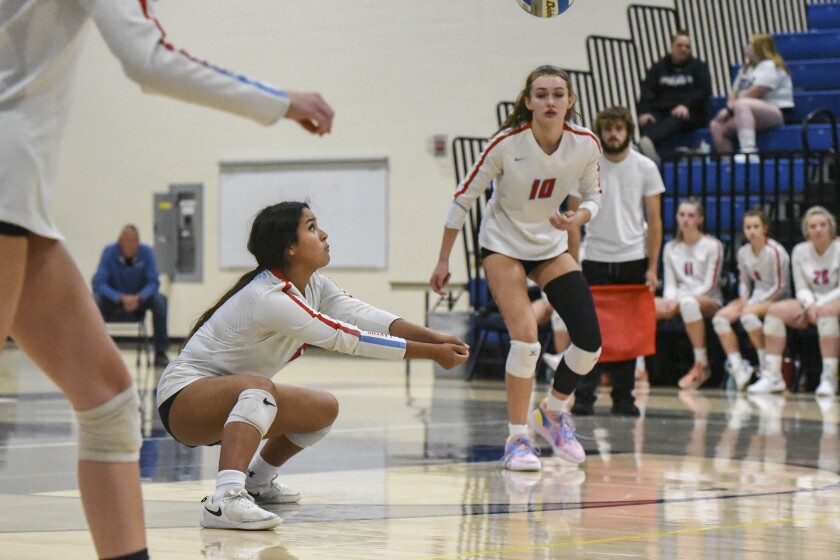 BEMIDJI – In a number of recent matches, the Bemidji High School volleyball team had been trying very hard – and failing – to finish out wins.
The Lumberjacks entered a matchup with 14-2 Detroit Lakes on Thursday at the BHS Gymnasium riding a four-match losing streak, and Bemidji fell down 1-0 and 2-1 against the Lakers. But this time, the Jacks didn't go anywhere, winning 25-15 and 15-12 in the final two sets to punctuate a hard-fought 3-2 triumph, whose impact will be felt well beyond Thursday's game.
Bemidji fights through and beats Detroit Lakes 15-12 in five sets. That was a classic, and a great comeback win for the Jacks, who trailed two sets to one. Detroit Lakes entered today 13-2 this season. pic.twitter.com/dB77q6HaVF

— Christian Babcock (@CB_Journalist) October 14, 2022
"It was just our mentality," BHS head coach Alicia Kriens said. "We didn't hold on to the pressure. We were very even and very focused on the next point, and not what needed to happen throughout the rest of the entire set. And that really helped us carry through and not put that pressure on (ourselves)."
After hanging in with DL (13-3) in a tight, 25-22 first-set loss, the Lumberjacks evened the ledger with a slim 25-23 victory in set two. That win capped a frame where the Jacks held a 16-7 lead, and though the Lakers surged back to 23-23, Bemidji didn't flinch and clinched the final two points.
"I was really proud of the girls," Kriens said. "We played a very even match. There were a few long runs for them in a couple of the sets, but overall, we played relaxed and we just played our game the entire time."
Detroit Lakes crested to an 8-4 lead early in the third set and largely maintained that slim advantage throughout the frame, ultimately triumphing 25-21 to put BHS in a 2-1 hole. But once again, the Jacks didn't back down, taking a 10-5 lead early in the fourth and pulling away late in the set for a 25-15 victory.
In the fifth and decisive frame, DL jumped out to a 2-0 lead and maintained that margin to a 7-5 edge. From there, the Lumberjacks took over, forcing a Lakers timeout by going up 10-8 and smoothly finishing out the final set with a 15-12 win.
"It's exciting," said senior Beth Bolte, whose kills off the Detroit Lakes block put Bemidji up 12-8 and 14-10. "We've had a few close games like that earlier in the season where we hadn't been able to finish it out, so it's really good to see how far we can come. We know we can finish those games now, and that we have to keep pushing and just not give up by the end of it."
BHS was without the services of back-row stalwart Sammy Nistler, which forced the Jacks to reconfigure their lineups and place certain players in unfamiliar positions. While the changes led to a few miscommunications and dropped balls, Bemidji pulled it together when it mattered most.
"Mollie (Rupp) was struggling with middle back and where to line up," Kriens said. "And we talked about, 'OK, only focus on her arm. That's your one thing that I need you to do when you're back there.' And she turned it on in the fifth set and did a really nice job defensively for us. We have people that are ready to step in and take on (new roles)."
Bolte heard the Jacks talking more effectively as the match progressed, and that made the difference as Bemidji coalesced down the stretch.
"We're doing a lot better job communicating," Bolte said. "People know where they have to step in and what they have to do. Even if they make the mistake, they just have to shake it off and step up the next play. Everyone knows what they have to do; we just have to go out and actually do it."
Bemidji 3, Detroit Lakes 2