Rob Nielson named Region 8AA Activities Director of the Year
Detroit Lakes AD proud to represent community and youth athletics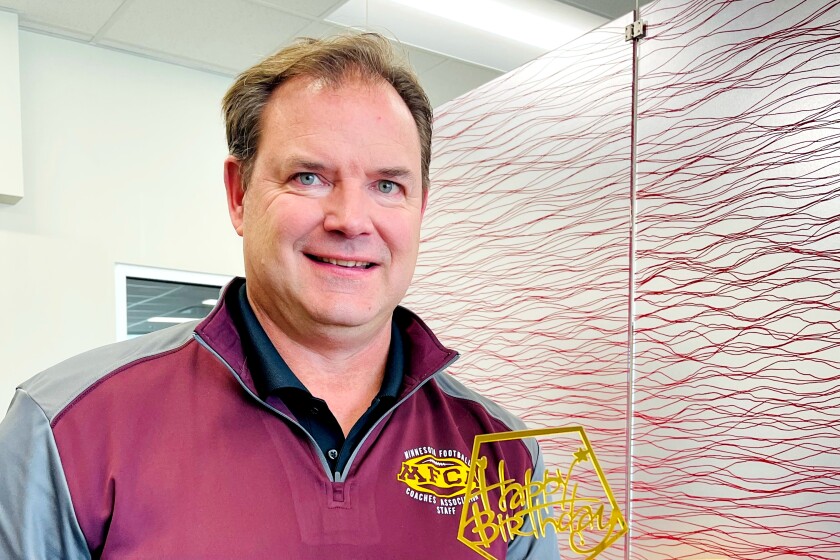 We are part of The Trust Project.
In 1989, Rob Nielsen and his wife thought they were making a temporary move to Detroit Lakes to start their careers in education. It's a pit stop that's lasted 33 years and counting.
Nielsen, now the Activities Director for Detroit Lakes Public Schools, was named Region 8AA Activities Director of the Year in early January.
He was voted on by other ADs in the 8AA field and is also nominated for the Minnesota State High School League's AD of the year recognition.
"I was kind of surprised since I've only been at this for five years," Nielsen said. "But it's an honor to get recognized by your peers. It's an honor for those people to appreciate and understand the position you're in."
Nielsen has held the AD position in Detroit Lakes since the spring of 2017.
He started his career in activities as a football coach and junior varsity hockey coach in 1989. While his stint in hockey lasted just one year, he was part of Detroit Lakes football up until 2015. He also was the head track and field coach from 1993-2006 and served as an assistant on and off until 2016.
Nielsen was the president of the Minnesota Coaches Association starting in the early 2000s and still serves on the executive board of directors.
Having grown up in the Moorhead area, Nielsen always planned on going back once the opportunity presented itself. That was, until he fell in love with Detroit Lakes.
"If we're being truthful, my wife and I always had the vision of being back in Moorhead," Nielsen said. "We both grew up there and participated in athletics. This was going to be a stop in DL until we could find something there. Obviously, we're still here. I don't know that we could've found a better place to land to grow as professionals and to grow our family."
"It kind of dawned on me one day during the first year I was here," Nielsen said. "I was student teaching and worked part-time in the winter and spring. I didn't start each day until about 11 in the morning. I was driving in when the sun was coming up. It was a beautiful day, and I didn't have a stop sign or a traffic light between where we lived and the school. I was driving on the lake and thought, why would we go anywhere else?'"
Nielsen is the longest-running AD in the Mid-State Conference.
Stability in administrative and coaching positions is an ongoing problem in the world of high school sports.
"There are all kinds of challenges that coaches and ADs face, with the time commitment," Nielsen said. "It's four, five nights a week where you're working until 10 at night. Coaches are doing the same thing, and they go on the road a couple of times a week. There are challenges with parent expectations that we see all over high school activities that make it difficult at times."
One thing Nielsen feels fortunate to have is the support of his family and friends as he's had to learn how to balance life at home and at work.
"If I'm being honest, I probably haven't had the best balance, and maybe I still don't," Nielsen said. "I've given up a lot with my family over the years, with coaching and now in this position. I'm lucky to have family that understands that. There have been times where I probably spent more time with other people's kids than my own."
When Nielsen took the AD job, he felt his years of coaching sports gave him a better understanding of how to work with coaches at the high school level. Being able to empathize with their concerns and show interest in all sports equally is the foundation of each coach-AD relationship, he said.
"It helps you understand the coach's perspective," Nielsen said on applying his experiences to the AD position. "I'm far from perfect, and I think most coaches will tell you that, but I'm working hard to try and be perfect."
"Rick Manke, who I worked with a lot in football and ended up being an AD here, showed me how important it is to see that every program we have is important," Nielsen said. "One of my things, when I came in, was I wanted to be involved with every program. I don't know a lot about swimming or dance, but I want to support you. I want you to know that I care about your program and am interested in what you're doing. It's challenging to be involved in everything, but that's what makes you successful."
Nielsen has seen everything from state championships to heartbreaking losses. While winning is a goal for every sports team, applying Detroit Lakes' "Champions in Life" motto is more important than wins and losses.
"We want to be section and state champions, but we also want to be champions in life," Nielsen said. "We want people to be successful in what they do after sports are done. Through that wording that the group of coaches put together, you start to see the things that kids are doing that make them champions in life. In two or three years, most of these kids aren't going to be playing sports. Instead, they're going to be living life in our community or another community, and we want them to be good people there."
Nielsen has been a part of projects that have changed Detroit Lakes athletics at all levels, including the creation of the newly-opened Lakeshirts Fieldhouse. But wearing the Lakers' logo and representing the place he fell in love with is what he's honored by the most.
"The thing I'm most proud of is to be a part of this school and this community and what we've been able to do here," Nielsen said. "We've had section and state championships here, and those are great, but I think what really gets me is seeing a kid who struggled learn how to find their way. I'm just proud of what our coaches, teachers and people do here to create good people."