Standing by in Sports, Thursday, April 1
Featured: Shelby Busker, Minnesota youth hockey champions, Swansons and Schillers at state with the Spuds, Section 8 coaches at the Frozen Four, Brady Labine, Emily Larson.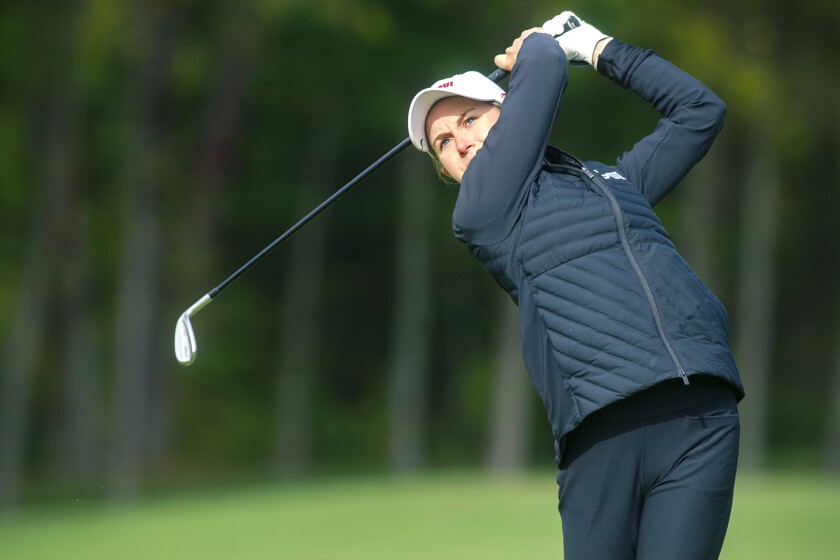 Busker top 5 at The Julie
The IUPUI women's golf team carded a final round 301 and cruised to a team title at this week's The Julie, hosted by Northern Kentucky University at Lassing Pointe.
The Jaguars ended the two-day, 36-hole tournament at 600 (299-301) and won the event by 17 shots over second-place UIC.
Three Jaguars earned top-10 finishes as both Amelie Svejda and Kara Blair tied for second at 147 and freshman Shelby Busker (Detroit Lakes) was fifth at 151 (76-75).
IUPUI began the day with a 10-shot lead and never let up as Svejda played the front nine even and Busker played it 1-over. F
With the win, IUPUI repeated as team champion after carding a team score of 596 at last year's event.
The Jags will return to action on Apr. 12-13 when they host the Lady Jaguar Invitational at Plum Creek in Carmel, Ind.
Minnesota Hockey state champs
Minnesota Hockey released a list of this year's youth hockey champions March 28:
Jr. Gold A - Osseo-Maple Grove
Jr. Gold B - Edina White
Jr. Gold 16 - Osseo-Maple Grove
19U - Wayzata
15A - Andover
Bantam AA - Wayzata
Bantam A - East Grand Forks
Bantam B - Alexandria Black
12A - Edina
12B - Edina
PeeWee AA - Edina
PeeWee A - Hibbing
PeeWee B - Edina Green
Swanson, Schiller at state with Spuds
A pair of former Laker hockey players, Reed Swanson and Mark Schiller, who played on the last Detroit Lakes hockey team to go to the state tournament in 1995-1996, got to make a return trip this season with the Moorhead Spuds. Both fathers have kids on the team, sophomore defenseman Joe Schiller and senior goalie Tyler Swanson.
Moorhead was in control for two periods, but Lakeville South took over the state quarterfinal with a four-goal third period to defeat the Spuds 4-2 in the Minnesota Class 2A state boys hockey tournament on Wednesday, March 31 at Xcel Energy Center.
Section 8 coaches at Frozen Four
Minnesota Section 8 hockey will be well-represented behind the benches at this year's NCAA Frozen Four national championship tournament in Pittsburgh, according to a report by Grand Forks Herald sport reporter Brad Elliott Schlossman. Mike Hastings (Crookston), Darren Blue (East Grand Forks), Todd Knott (Red Lake Falls), Nick Oliver (Roseau).
Labine runner-up in first outdoor race
Saint John's track and field won 11 events en route to a triangular victory on Saturday, March 27, in Collegeville. The outdoor meet was SJU's first since the 2019 NCAA Division III Championships, held May 23-25 in Geneva, Ohio - a span of 672 days.
The Johnnies collected 32 top-three performances for a total of 168 points, followed by Concordia-Moorhead (97) and Minnesota-Morris (45).
Senior Brady Labine (Detroit Lakes) took second in the 400-meter race with a time of 1:01.05. Labine won a national championship for St. John's running the third leg of the 4x100 relay team back in 2019.
Larson leads hot-shooting M State
Former Laker Emily Larson led the M State Spartans women's basketball team to an 82-60 victory over visiting Riverland Community College Saturday March 24.
M State hit 11-17 (67%) from beyond the arc, nearly half of those threes coming from Larson. The Spartns shot 55% from the field.
Larson drained five 3's to lead the Spartans in scoring with 21 points. She also pulled down 8 rebounds and had 4 assists.
M State (5-6) clinched the top seed in the MCAC postseason tournament and will host an opening round game Saturday, April 3.
MISCELLANY
In case you missed it, check out Michael Achterling's feature story on Lowell Hunt, 91, of Detroit Lakes, who is missing only his fourth state boy's basketball tournament since 1949 due to COVID-19 attendance limits put on this year's games. Hunt said, "He wouldn't trade his tournament memories for anything," as he highlighted his favorite moments of past tournaments, how he created an annual tradition for his family and why he loves basketball so much.